Adrina Riva
Odelia editora
Argentina
  Novel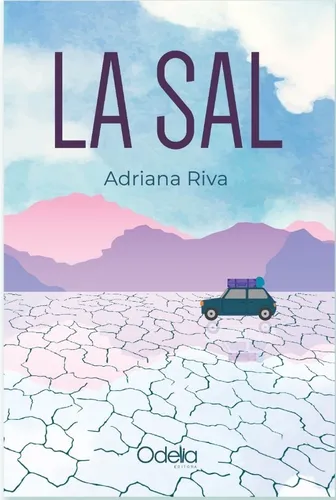 "The silence stretches. This is how far we get. Mom's that bit of unreachable skin between my shoulder blades, that bit that itches and I can't scratch". Following a childhood accident, Ema digs deep into her bond with her mother and, pregnant with her second child, sets on a journey in search of answers: who is Elena, really? Does she truly know her? Her mother is distant and no matter how hard she tries, she can't reach her. The years haven't changed that. Filled with accurate images, Adriana Riva's bare writing rethinks family ties with admirable precision, humor and rawness, making La Sal (The Salt) into an intimate and touching novel.
"This is the age of women, and Argentinian literature is being renewed by many female writers. Adriana Riva writes with verbal brilliance, creates wonderful images and shoots at the heart of empathy. With this book she asserts herself as a very unique voice of this landscape". Santiago Llach
ISBN 978-987-861-198-3

Adrina Riva was born in Buenos Aires in 1980. She worked ten years as a journalist. Her first short-story book, Angst, was published in 2017, and an illustrated María Elena Walsh biography, Between the leaves that sing, in 2018. She has three daughters. La Sal (The Salt) is her first novel.
"El silencio se estira. Hasta acá llegamos. Mamá es ese centímetro de piel inalcanzable entre mis omóplatos, ese pedazo que me pica y no me puedo rascar". A partir de un accidente en su infancia, Ema indaga en el vínculo con su madre y, embarazada de su segundo hijo, encara un viaje en busca de respuestas: ¿quién es realmente Elena? ¿La conoce lo suficiente? Su madre es distante y hay una zona que ella no logra franquear por más que lo intente; eso no cambió con el paso de los años. Con una prosa simple en apariencia pero cargada de imágenes certeras, Adriana Rivare plantea los vínculos familiares con una precisión admirable, no exenta de humor y de crudeza, que convierte a La sal en una novela intimista y conmovedora.
"Esta es la era de las mujeres, y la literatura argentina está siendo renovada por muchas escritoras. Adriana Riva escribe con brillantez verbal, crea imágenes maravillosas y dispara al corazón de la empatía. Con este libro se afirma, sin duda, como una voz personalísima dentro de esta escena". Santiago Llach
Nació en Buenos Aires, en 1980. Trabajó diez años como periodista. En 2017, publicó Angst (Tenemos las Máquinas), su primer libro de cuentos, y en 2018, Entre las hojas que cantan (Diente de León), una biografía ilustrada sobre María Elena Walsh. Tiene tres hijas. La Sal es su primera novela.